Just 1 cadbury egg alone provides 800% of your daily fat and calories... so let's see how far we can push the boundaries of decadence. What you know about Easter, bitch?? I'm about to blow this shit up, fat motha fucka style, yo.
Deep Fried Cadbury Caramel Egg
6-8 Cadbury Caramel Eggs (frozen)
1 egg
2/3 cup milk
2 TBSP dark brown sugar
1 TBSP Lyle's Golden Syrup
1 ¼ cup flour
¼ tsp salt
1 tsp baking powder
In a deep skillet, heat about four cups of oil over medium-high heat until hot.
Test the temperature by dropping a pinch of flour into the hot oil. If it sizzles right away without smoking, it's perfect.
Beat egg and milk. Mix all other ingredients in a separate bowl and slowly add to the egg mixture, beating until smooth.
Dip frozen Caramel Eggs into batter.
Fry for about 2-3 minutes, remove from the oil when golden brown and crispy and place on paper towel to get excess oil.
Sprinkle with powdered sugar and serve.
______________________________________________
Cadbury Creme Egg Cupcake
1/4 cup butter, softened
1/2 cup golden corn syrup
3 cups icing sugar
1 teaspoon vanilla
yellow food colouring (optional)
1/2 cup butter, softened
1/2 cup sugar
2 eggs, separated
1/2 teaspoon vanilla
3 ounces unsweetened chocolate, roughly chopped
2 cups flour
2 teaspoons baking powder
½ teaspoon baking soda
½ teaspoon salt
1 ¼ cups milk
1/2 cup chocolate chips
1/4 cup butter, softened
First you will want to prep the "creme egg" filling. Beat 1/4 cup of the soft butter until fluffy. Add syrup, icing sugar and 1 teaspoon vanilla and beat until well combined. If desired, stir in some yellow food colouring until a pale yellow. Reserve in fridge and let set up.
Turn oven on to 350F. Grease a muffin tin and line with paper cups. In a double boiler melt the unsweetened chocolate, stirring regularly. You can start mixing the cupcake batter while it melts and then turn the double boiler off when the chocolate is melted. These cupcakes are easiest in a mixer, but can be done with a hand mixer or even an able pair of hands. Beat butter until light and fluffy and add in sugar until well combined. Separate the egg whites into a large bowl and beat the egg yolks into the sugar one at a time. Slowly add in melted chocolate and vanilla.
In a separate bowl whisk together the flour, baking powder, baking soda and salt. Alternately fold in dry ingredients and milk in a few batches. Don't over mix! Beat the egg whites to soft peaks and fold in.
Divide the batter into the muffins cups. Remove the creme filling from the fridge and roll out 12 balls no bigger than a centimeter in diameter. In the centre of each cupcake press in a ball of filling as deep as possible. Sprinkle with chocolate chips. Bake for 35 minutes.
Transfer cupcakes to a rack and let cool.
In the meantime combine the last 1/4 cup of butter with the remaining creme filling and beat until uniform. Transfer to a piping bag. The cupcakes should have little holes in the middle. Put your icing into a piping bag and pipe a dollop into the centre of each cupcake. Amazing when eaten just a little bit warm, of course then you risk the icing melting, but it really isn't that bad now is it?
Yields 12 cupcakes.
This recipe actually came with a warning: Sweet mother of all things that are merciful on this planet, make these cupcakes at your own peril. Your teeth will hurt, your entire kitchen will be sticky, and you will need to buy new jeans. Is this supposed to deter me?
_____________________________________________________________________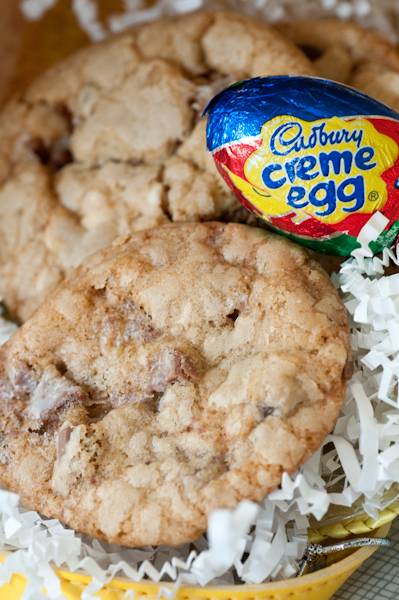 Cadbury Egg Cookies
1/2 c. butter, softened
1 1/2 c. shortening
2 c. sugar
1 c. brown sugar
4 eggs
2 tsp vanilla
2 tsp salt
2 tsp baking soda
5 c. flour
1 lg bag of Cadbury Eggs, crushed.
Mix butter and shortening together until light and fluffy, and then add your sugars, mixing until light and fluffy. Add eggs and vanilla. Mix well and then add dry ingredients. Mix well. Stir in Cadbury eggs reserving some to sprinkle on the tops of the cookies. Bake at 375 for 10-12 minutes. If they look a little doughy still, let them cool and they will be perfect.
_________________________________________________________
And if you can't find these little suckers anywhere, the internets has brought you a way to make your own. Oh joy!!
Ingredients:
170g (1/2 cup) light corn syrup (or golden syrup if you're across the pond)
58g (1/4 cup) butter, room temperature
375g (3 cups) confectioner's powdered sugar (icing sugar)
1 teaspoon vanilla
1/4 teaspoon salt
yellow food coloring
1 (12 ounce) bag milk chocolate chips
To make actual hollow eggs with the filling inside, you'll need to acquire some egg molds. Alternatively, you can form the filling and dip it in the chocolate. If you choose the dipping method, you may consider adding 2 teaspoons of non-hydrogenated vegetable shortening to the chocolate to thin it and make it easier for dipping.
Try making them on a stick too, it's awesome! Ah, sometimes being a fatass is so much fun.
BOK!!

Happy Easter, everyone!